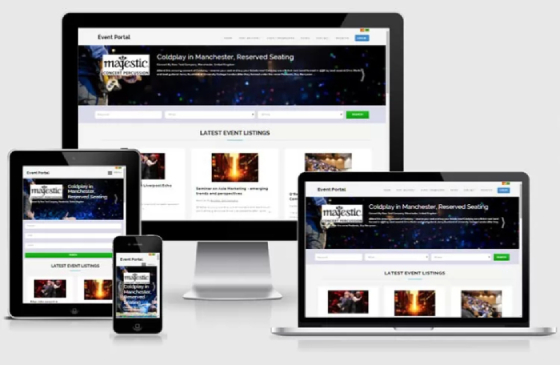 Event Portal is a php web software, which can be easily installed on a server or hosting package of yours to create quickly an advanced online event advertising and ticket selling website. It has multiple features for the users allowing them to post and search event listings, subscribe for events, process online event applications, sell tickets, create ticket maps, tickets generation and printing with barcode, sending newsletter and many others.
The software comes with a powerful administration panel, which allowing the site administrator to edit the website content and pages, change the different settings, manage the users and event listings and many others.
The administrator has also different options to charge the advertisers with different charging modes (with subscription, direct payments or credits) and charge them when posting event listings on the site or make them featured or when posting banners and others. The software is written in core PHP and is using a MySQL database to store the user data.
Event Portal is provided with the full non-encrypted sources, free installation on your host (if you prefer that we do it for you), free technical support and free powered by removal (we don't require you to keep any link back to us on your site or our references).
NEW FEATURES ADDED IN VERSION 2.0 OF EVENT PORTAL

NEW IMPROVED DESIGN OF THE EVENT DETAILS PAGE, MIDDLE RESULT AND SEARCH FILTERS

NEW FUNCTIONALITY TO POST RECURRING EVENTS

DIFFERENT FRONT-END IMPROVEMENTS AND UPDATES

NEW FUNCTIONALITY TO SET CUSTOM IMAGES FOR THE EVENT CATEGORIES OR LOCATIONS
FEATURES ADDED IN VERSION 1.1 OF EVENT PORTAL

NEW SEARCH FORM AND MORE SEARCH OPTIONS ADDED

IMPROVED FUNCTIONALITY TO CUSTOMIZE THE WEBSITE COLORS

NEW FUNCTIONALITY TO BROWSE THE EVENTS BY MAP AND TRACK THE USER'S LOCATION TO SHOW HIM EVENTS AROUND HIS LOCATION

REVIEWS AND COMMENTS FOR THE EVENTS

BROWSE THE EVENTS BY CALENDAR

NEW IMPROVED ADMIN PANELS FOR THE EVENT ORGANIZERS AND REGISTERED USERS ON THE SITE

NEW FUNCTIONALITY ALLOWING TO ENTER THE EVENT DESCRIPTION IN MULTIPLE LANGUAGES

NEW PAGES AND CHANGES IN THE MAIN MENU
Have A Question?
If above scope of work is not fulfilling your requirenments, then contact us to discuss for any further customization. Our technical team can make a detailed scope of work as per your requirenments and submit you within no time.