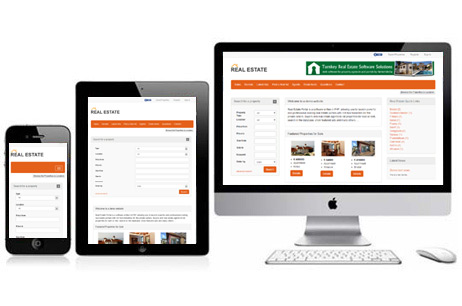 Real Estate Portal allows you to launch powerful, responsive, SEO optimized and professional looking real estate portal websites, offering plenty of features for the users to post properties, make searches, create their own micro sites etc. and administrators to manage the website, its content and settings.
The software offers flexible functionality to the administrator / site owner to monetize the website and charge the users by creating subscriptions, charge them also based on credits, to charge for featured ads, banners and others. Some of the other key features include Facebook login integration, Google Maps integration, micro sites for the property agencies, multi language support (with different available translations like Spanish, Russian, Portuguese, French etc.), mobile friendly layout, share the listings on the social networks and many others.
Real Estate Portal allows you to build advanced and professional looking real estate portals with multiple features for the private sellers, buyers and real estate agents to list properties for sale or rent, search in the database, show featured ads and many others. The private sellers can manage their ads at any time through their personal administration space. The product includes special functionality for the real estate agents (to list and manage multiple ads) and affiliates (to earn commissions from the earnings from property ads posted through their links).
Real Estate Portal comes also with a powerful back office application providing full control over the web site (structure management, server side forms, detailed statistics) and the real estate portal (ads, sellers, agents, affiliates, statistics) to the administrators.
We've worked hard on improving the product and adding more and more advanced functionality like for example: functionality for the administrators to define the property types, the associated fields with them and even set which fields are searchable!, email alerts (email notifications for the users when new properties matching their search criteria are listed) - SEO optimized links, look like static html files with the property headline appearing in the link, for example: www.domain.com/ad/16/luxury-apartment-in-new-city.html - multi administrators back office - possibility to create multiple admin users and assign them different access rights for the system resources - improved property packages functionality allowing the administrator to create different packages for the private sellers with a different number of allowed pictures and a different price; special packages for the real estate agent.
Select a Real Estate Portal
Main Information
Setup Fee
Property Types Management
Different User Types
Charging the Users
Real Estate Listings Search
Listings Slide Shows
Fast & Responsive Admin Panel
Browse by Location
Advance Search
Configuration Options Management
Custom extensions and tags
Saving the Listings
Quick Links
Browse the Registered Agents
Google Maps Integration
Manage the Site Structure
SEO Optimized
Multi-Language
Agent Micro Websites
Email Alerts
RESPONSIVE DESIGN
Mobile Phone Enabled
Tablet Enabled
Real Estate Portal 1
Real Estate Portal 1
Real Estate Portal 2
Real Estate Portal 2